Pierre-Olivier Etique is a partner with FBT and a member of its Banking and Finance group. He advises a number of Swiss and foreign banking institutions, independent asset managers as well as financial companies active in securities trading or intermediation. Pierre-Olivier Etique has a solid experience in banking and finance regulation, cross-border issues as well as international administrative assistance in stock exchange matters. His expertise is also recognized in collective investment schemes, a field in which he advises many players in this industry, whether it is in structuring of investment vehicles, asset management or distribution.
Pierre-Olivier also assists banks and independent asset managers in their relations with their supervisory authorities, as well as within the framework of financial litigations before civil tribunals.
Furthermore, he gives lectures in various continuous training programs intended for the banking and finance industry.
He is recommended by Legal500 in Banking & Finance Law ("very knowledgeable and business-oriented", Legal500 2016). Chambers distinguishes him as a leading lawyer in the collective investment schemes field ("His legal knowledge is almost perfect and he has a pragmatic approach to legal advice", Chambers 2017).
Banking and Finance Regulation
Cross-border issues
Anti-Money Laundering Laws
Authorization Procedures
Collective Investment Schemes
Regulation of Stock Markets and Derivatives
Administrative Assistance in Stock Exchange Matters
Financial Services Agreements
Financial Pre-Litigation and Litigation
FINMA Enforcement
Education and professional Experience
Since 2014 – Partner, FBT Avocats SA, Geneva
2010 – Admission to the New York Bar
2009 – LL.M., International Banking and Securities Transactions, Boston University, USA
2005-2014 – Associate, FBT Avocats SA, Geneva
2005 – Admission to the Jura Bar
2004-2005 – Extraordinary clerk, Courts of the Canton of Jura
2002 – LL.M., Vergleichendes- und Gesellschaftsrecht, University of Augsburg, Germany
2001 – Law degree, University of Fribourg
Memberships
Geneva Bar Association
Swiss Bar Association
Geneva Fintech Association (GFA)
Speaking Engagements
LSFin et LEFin : comment vous préparer ?
Novembre 2018 / Academy & Finance
Frédérique Bensahel , Pierre-Olivier Etique
LSFin : état des lieux - Catégorisation des clients dans le cadre de la LSFin
Novembre 2017 / FINIX Event
/ Banking and Finance
Pierre-Olivier Etique
Panorama des risques juridiques liés à la gestion de fortune: aspects pratiques et tendances
Septembre 2016 / Invest 16
Frédérique Bensahel , Pierre-Olivier Etique
Transparence fiscale et lutte contre le blanchiment d'argent : responsabilité et solidarité des gérants indépendants / évolutions réglementaires
Octobre 2015 / Invest 15
Alain Moreau , Frédérique Bensahel , Jean-Luc Bochatay , Pierre-Olivier Etique
LEFin, LSFin, LPCC, rétrocessions : changement de cap réglementaire, prochaines échéances et nouveaux défis
Septembre 2014 / Invest 14
Frédérique Bensahel , Pierre-Olivier Etique
Règles sur la distribution de fonds de placement, projet de loi sur les services financiers: incidences sur les gérants indépendants?
Septembre 2013 / Invest 13
Pierre-Olivier Etique
Distribution de placements collectifs de capitaux / projet de loi sur les services financiers : incidence sur les gérants indépendants
Septembre 2013 / Invest 13
Frédérique Bensahel , Michel Abt , Pierre-Olivier Etique
Obligations de la banque dépositaire de placements collectifs sous la LPCC révisée
Avril 2013 / Academy & Finance
Pierre-Olivier Etique
Révision de la loi sur les placements collectifs de capitaux
Avril 2013 / Conférence donnée à la demande d'une banque privée
Frédérique Bensahel , Pierre-Olivier Etique
Révision de la loi sur les placements collectifs de capitaux: nouveautés du 28 septembre 2012
Novembre 2012 / Event LPCC
Michel Abt , Pierre-Olivier Etique , Emmanuel Genequand , Nicolas Biffiger , Olivier Sierro , Philippe Zufferey
Révision de la loi sur les placements collectifs de capitaux
Septembre 2012 / Event LPCC
Frédérique Bensahel , Michel Abt , Pierre-Olivier Etique
Comptes numériques et protection des déposants
Janvier 2012 / Association des banques étrangères en Suisse
/ Banking and Finance
Frédérique Bensahel , Pierre-Olivier Etique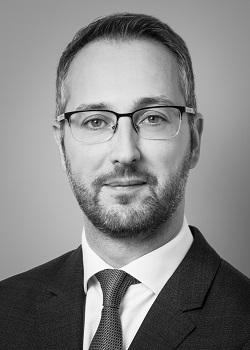 Partner, Geneva
FBT Avocats